New Life Colostrum 100% Lactoferrin Symbiotics 60 Caps 647303040069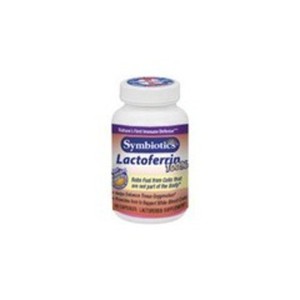 ---
  Home > Supplements > Colostrum > New Life Colostrum 100% Lactoferrin New Life Colostrum 100% Lactoferrin Symbiotics 60 Caps Brand: Symbiotics UPC: 647303040069 Form: Capsule Size: 60 New Life Colostrum 100% Lactoferrin 60 CapsuleProduct Description

Lactoferrin helps coordinate the body's immune response through several mechanisms of action. Lactoferrin promotes intestinal health by scavenging iron and balancing healthy flora in the GI tract. By modulating healthy levels of iron in the body. Lactoferrin plays a key role in maintaining overall health. Symbiotics 100% Lactoferrin is freeze dried to preserve maximum potency. Extra processing enhances its protein structure to increase effectiveness. Our Lactoferrin comes from USDA Grade A dairies that are hormone, pesticide, antibiotic and rBST free.

Suggested Use As a dietary supplement take two capsules daily on an empty stomach with 8 oz of water, or open capsules and sprinkle over a small amount of food - Or as directed by your healthcare professional.
Supplement Facts
Serving Size 2 Capsules Servings Per Container 30 Amount Per Serving% Daily Value*** Bovine Lactoferrin from Pasteurized Cow Pre-Milk 500 mg ***Percent Daily Values are based on a 2,000 calorie diet

Other Ingredients Bovine colostrum, rice flour, ascorbyl palmitate, silicone dioxide, medium chain triglycerides, sunflower lecithin, gelatin capsule . Contains Milk

Warnings Keep out of reach of children. As with all dietary supplements, consult your healthcare professional before use. See product label for more information.

About VitaminLife:

VitaminLife offers the world's largest selection of vitamins, supplements, minerals, herbs, diet, skin care and cosmetic products with 30,000 products from over 500 leading manufacturers. We ship products worldwide. If you have any questions, please contact our customer service department. VitaminLife also has a physical store in Redmond, Washington where we carry our top selling items. We are near the headquarters of Microsoft. If you are ever in the area, please visit us.

Our Satisfaction Guarantee:

We stand behind every item we sell. If you are not satisfied with your purchase for any reason, simply return the unused portion (unfortunately we cannot process empty containers as returns) in original packaging with your invoice within 30 days from delivery date for a prompt refund less shipping. We cannot process returns after 30 days. Please contact us for authorization before returning product, unauthorized returns will be subject to a 15% restocking fee. If more than 10 of the items from the order are returned, a 15% restocking fee will be applied. Only one opened item of the same product is eligible for return. All others of the same item must be factory sealed original packaging for a refund.

Shipping:

Combined shipping discounts are available for items combined in a single payment. Please contact our customer service department within 24 hours of your order to combine your shipping if you order multiple items from our Store. Please note we are unable to combine shipping if your order has already been paid for and shipped out. Refrigerated items are kept in the refrigerator until they are ready to be shipped. After the items are in transit, they are susceptible to shipping temperatures. Unfortunately, VitaminLife does not have refrigerated packing materials or ice packs. We recommend shipping during cooler months or selecting expedited shipping methods.