New AAA Converter w/ Batteries for Polaroid Cameras 100 101 102 230 240 250 340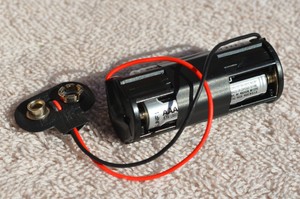 ---
NEW AAA Battery Converter now with Maxell Alkaline batteries for Polaroid Pack film Land Cameras using (1) #531/PX19 4.5V Battery.

This is used on the following Polaroid Pack Film Land Camera models only:

100, 101, 102, 220, 225, 230, 240, 250, 340, 355.

I do ship Internationally for a reasonable price.

Comes complete with instructions/tips on how to install and use. Also, if you have a metal body camera (100, 101, 102, 240, 250, 355) I tell you how you can save the camera even if the connectors and/or wires are too corroded.

Full email support after the sale.

Each one is handmade and tested by me.

Pictures show a typical installation in a 250 camera (camera not included).The third photo shows the quality of solder connections.

Unlike the recent copies of my converter on , some of which have the connectors just screwed into the ends of the holder (like the old battery) and may look nice installed. They will eventually come loose as the metal they are screwed into is very soft and will pull off with repeated use. 

If the connectors on your camera are bad, you will still be out of luck with these converters, just as you would buying the original replacement battery, as you cannot wire it directly.  I leave my connectors wired so if they are bad on your camera you can cut off them off and wire the holder directly, which I tell you how in my instructions. I also tell you how to test the converter in your camera so you do not waste film. I also use these in the Polaroid cameras that I sell here on .

30 day money back on this item if not as described. 

Over 950 in use so far, Worldwide!

This replaces the old hard to find obsolete (only online when in stock $12-15 plus shipping) # 531, PX19 4.5V battery.

The ones you find now online are all made in China and have connectors that pull off from the battery very easily, rendering it useless. Believe me I know first hand.

The plastic body cameras 220, 225, 230, and 340 the holder is molded into the plastic and will require some cutting to fit. A pair of needle nose pliers will work great (I have done this to many plastic body cameras that I sell)

No modifications are made to the camera (except the plastic bodies) keeping its collectable value.

The converter has the same snap connections that these cameras use.

To use this converter all you have to do for the metal body 100, 101, 102, 240, 250, 355:

Unscrew the small phillips screw that holds the old battery holder in place, and remove.

Snap the camera connections to the holder, see photo 5. Place into camera making sure the wires do not get pinched in the door.

The battery converter has soldered connections and are taped with electrical tape to prevent shorts and keep stress from pulling on the solder joints.

Each one has been individually tested with a Volt meter to insure that it works properly and has no shorts.

Why buy another converter that does NOT come with batteries, or even cheap no-name Chinese made batteries that can leak acid and ruin your camera. They are also usually untested,  making it difficult to see if that camera you have works or not. If the converter was not tested it could be bad, and not the more expensive camera you are trying to test!

Your bid is for one.

The 3 AAA (now Maxell brand) Alkaline Batteries are also included.

They have a shelf life of 2022, so they should last a long time in the camera and probably never need to be replaced.

Shipping to all 50 states is by First Class Mail.

International shipping is based on First Class Mail.

I do comine on shipping on International orders to save you money.

 TERMS:

Payment to be PayPal only. 

Shipment to PayPal address only.

International bidder/buyers are responsible for any taxes or duty fees for your country.

International buyers, I will not mark the item as a gift or lower the declared amount as it is against federal law. UK buyers can expect to pay a 25% import fee. This is out of my control, if you do not like it complain to your countries government.

International bidders in the following countries:

South America, Italy, Spain and Singapore.

Tracking is not always updated by your country and customs are slow.

Shipments by First Class mail may take up to 60 days to get to you depending on your local customs and peak shipping times.

Shipments by Priority Mail may take up to 30 days.

All items are as described. Check my feedback.

Please ask any questions before bidding please.

Thank you and good luck !