Bauer T610 Microcomputer Stereo Super 8mm Cine Projector Belt (Main Motor Belt)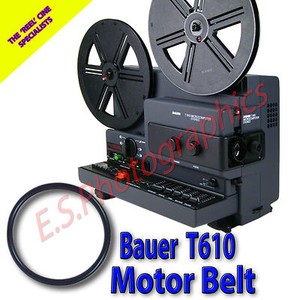 ---
Bauer T610 Microcomputer Stereo Cine Projector Motor Drive Belt
Being an ex-cinema engineer of over 30 years and working on many different makes of motion picture equipment, I can assure you that these belts have been thoroughly tested for reliability and quality.
Used in over 200 hundred different projectors for almost 20 years, these belts have proven to outlast the originals at a realistic price.
Why not also check out our replacement lamps, Instruction books,  editing supplies and other useful accessories which can be found within our store.  
All our belts are brand new, not salvaged from old projectors
Tough, long lasting & chemically resilient Nitrile substitute
Strictly no foreign cheques, money orders, foreign cash or direct bank transfers. Only Paypal from overseas buyers.
TERMS (You are agreeing to the following when purchasing this item)  
Please note that I do NOT send out goods on a Wednesday. My postage days are Monday, Tuesday, Thursday and Friday. 
I do not ship to countries that are covered by my excusion policy.
An unpaid item dispute WILL be opened after 5 days if payment not received This can be extended providing buyer responds to invoice/reminders for payment.